ITeS & Cloud Computing
About Cloud Computing
The service aspect of the cloud includes three different components

which can be combined to build a cloud-specific service package or offering
Cloud Computing is one of the hype topics in the high-tech industry today. Almost every IT company offers some kind of cloud product or services and almost every IT expert uses a different definition of the term Cloud Computing.
Typically Cloud Computing is related to an on-demand service model by which various different resources (hardware, software, and services) are combined on an on-the-fly basis.The service(s) are delivered over the network, which could be the intranet of a company or the internet when the service is ordered from an external provider.
There is no magic behind these Web services, other than the fact that the end-user does not need to deploy or install dedicated applications on their home PC system anymore.
The general concept of Cloud Computing from a private end-user's point of view is:
To plug into the internet from anywhere access processing, applications, and data services whenever needed To only pay for what is sought, used or required
About Cloud Service Models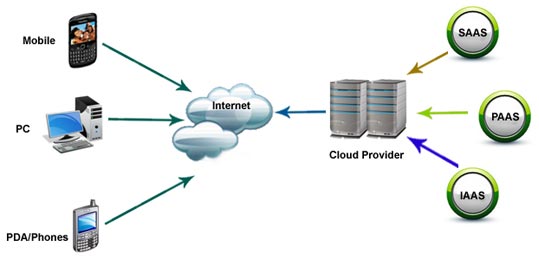 It has 3 major categories:
Software-as-a-Service (SaaS) - On-demand use of software over the Internet. This type of service has been on the market for several years, and has the greatest uptake so far. Businesses are moving steadily toward it, shifting from licensing software to subscribing to services, typically on a per-user, per-month basis.

Infrastructure-as-a-Service (IaaS) - Storage and computing resources as a service. The main advantages are lower costs, increased flexibility, and the ability to rapidly start up and shut down services. This type of service also helps to moderate capital expenditures by reducing the need for on-site data center infrastructure and computing systems

Platform-as-a-Service (PaaS) - Tools and environments to build and operate cloud applications and services. This is newer in the marketplace, but adoption is expected to increase significantly over the next few years as the time required to scope, develop, test, and deploy applications is reduced. The value of converging applications on a single platform should further drive adoption.
Of late, a 4rth major variation has been Desktop as a Service (DaaS) moves the desktop environment of a cloud consumer into the cloud and provides secure remote access to the server-based applications.