About Virmati Infotech Ltd.
Profile
To extend Virmati Group's vision, Virmati Infotech Ltd (VIL) was established in 2004-05 with a view to focus on IT enabled Services (ITeS) which are forming an increasing component of IT Landscape today.
From Hosting Solutions to Advisory Services, eCommerce Platforms to Financial Inclusion, Virmati Infotech Ltd caters to a host of new & emerging needs of Modern IT & Governance in India.
Virmati Infotech Ltd. has valuable guidance and access to expert domain knowledge & solutions from Virmati Software & Telecommunication Ltd., the group company, which has been a pioneer in industry-leading solutions in the verticals of Banking & Finance, eGovernance, eCommerce & Private Sector.
Sphere of ITes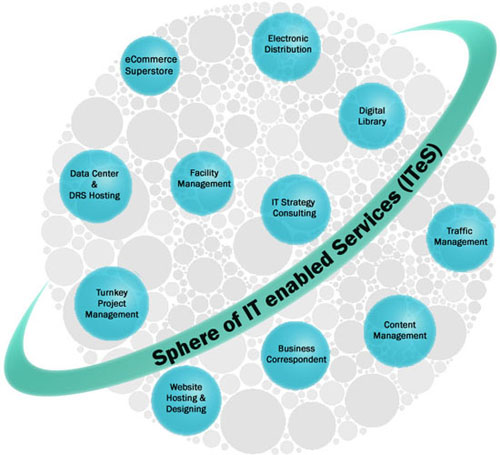 eCommerce Platform & Financial Inclusion
As a flagship achievement, Virmati Infotech Ltd. is managing & promoting eRajya.com portal across the length & breadth of India. eRajya.com has emerged as one of India's premier eCommerce Services Portal, now by mid- 2010
Started shortly back in 2008, this Portal has 40000+ POS Members who are increasingly using the portal for eCommerce business activities. The ease of use, online account & statements and ever growing list of digital services are adding to the popularity & growth of eRajya
Add to that Financial Inclusion & Business Correspondent Services, VIL is moving to consolidate & contribute as an outstanding Intermediary in bringing digital & financial inclusion across the masses of India, especially the rural & semi-urban regions.